For those planning to attend the district cross country on Saturday 10/22 at Hilliard Darby HS, all tickets must be purchased online at
www.ohsaa.org/tickets
There will be no cash sales at the gate. The boys will run at 10am and the girls at 11am.

Parents/Guardians: It's getting cold outside! We go out for recess unless it is raining or the 'feels like' temperature is below 20 degrees. So please make sure your child is dressed for the weather with a coat, hat, and gloves. The first bell to come into the building does not ring until 8:25am. Students are not able to come into the building before then because we have no one to supervise them.

Wear your PINK on Friday!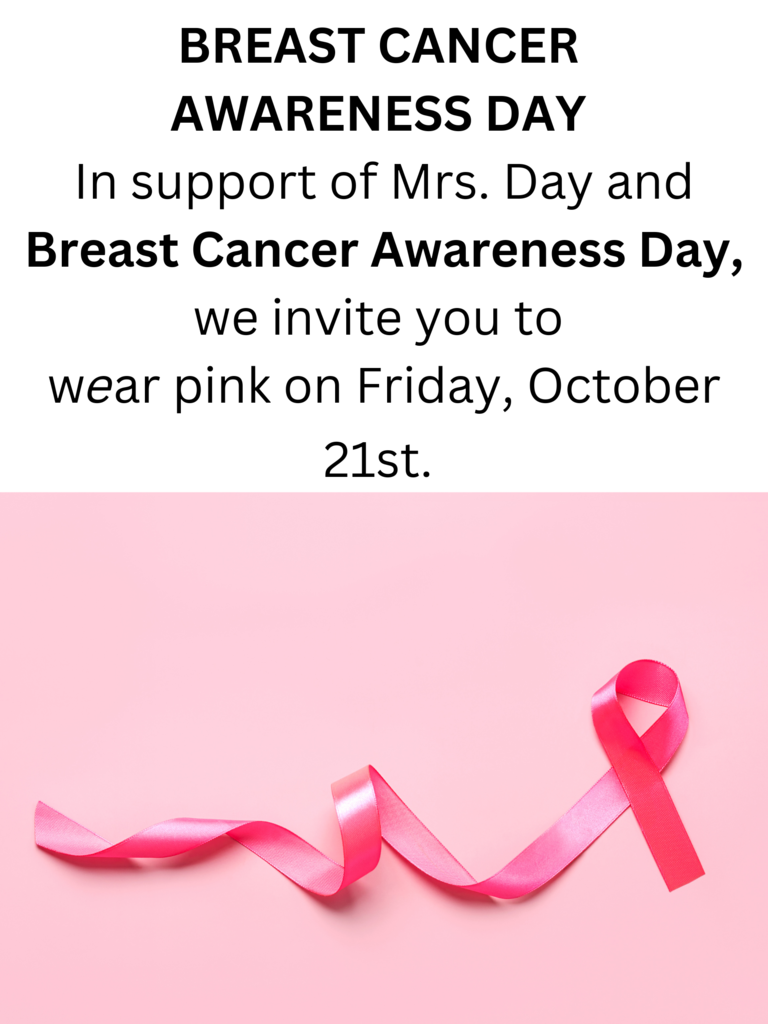 Congratulations! Your District has a Nominee for the MaxPreps Ohio High School Athlete of the Week Award. We are pleased to offer these weekly awards again this school year. The MP AOW awards are decided by fan vote, so we encourage you to forward this email to others in your school, district and community. We also encourage you to make reminders over your daily announcements (beginning and ending of school day) and announce the honor/nomination during your weekly athletic events. You may promote on district's social media as well (Facebook and Twitter). Voting is live and will conclude at Noon on Monday, Oct. 24. You may vote as often as you like. The TOP vote-getters (2 or more) will earn awards. The winners will be announced on site Tuesday and will receive personalized awards. Awards will be sent to the Athletic Department c/o the Head Coach and Player. OHIO HS ATHLETE OF THE WEEK NOMINEES * Ashley Sims, London Volleyball * Ella Wong, Hawken Girls Golf * Ella Grode, Avon Lake Girls Soccer * Ahmed Ahmed, Youngstown Liberty Boys Soccer * Rocco Turner, Cardinal Mooney Boys Golf * Tyler Johnson, Centerburg Football * Davis Gochenouer, Alter Boys Golf * Jon Normington-Slay, Perkins Boys Soccer CLICK HERE TO VOTE Thank you for helping promote Ohio High School Sports and your School District.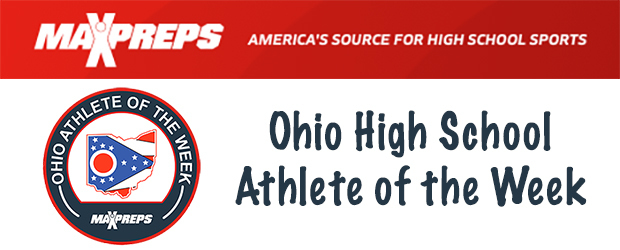 Baseball Open Gym for this evening has been CANCELED!

Congratulations to our September Students of the Month for the MS/HS! Rainee Putnam, Mason Shaw, Ryleigh Stephens, Asher Kennedy, Oakley Brooks, Gavin Collins and Ethan Kent. Also, our Staff Member of the Month - Tanya Foulk.

Congratulations to Payton Tucker on her 6th place finish today at the KMAC XC and earning 1st Team All KMAC honors. Ethan Jackson, Chase Netting and Nathan Dickhoff all earned 2nd team honors on the boys side.

KMAC Champs!!! Congratulations 7th grade girls!

For anyone planning to attend the KMAC cross country meet or the KMAC MS volleyball tournament, all tickets must be purchased online at the following link;
https://kmacathletics.hometownticketing.com/embed/all
There will be NO cash sales at the gate. Only KMAC passes will be accepted. No other passes of any kind will be accepted at the gate.


On Oct. 1st, the Centerburg HS Boys Golf and MS Golf Teams hosted their annual fundraiser golf scramble at Wyandot GC. Congratulations to the team of Gary Foreman Jr., Todd Righter, Mike McCoy, and Tim Kain, who posted a winning score of -20 for the event.  A very special "Thank you!" to TOPGOLF of Columbus, Little Turtle CC, The Links at Echo Springs, Apple Valley GC, Chapel Hill GC, and Wyandot GC for donating passes and other items for the scramble and Silent Auction. And of course thank you to all of the hole sponsors and to all of those who came out and played that day.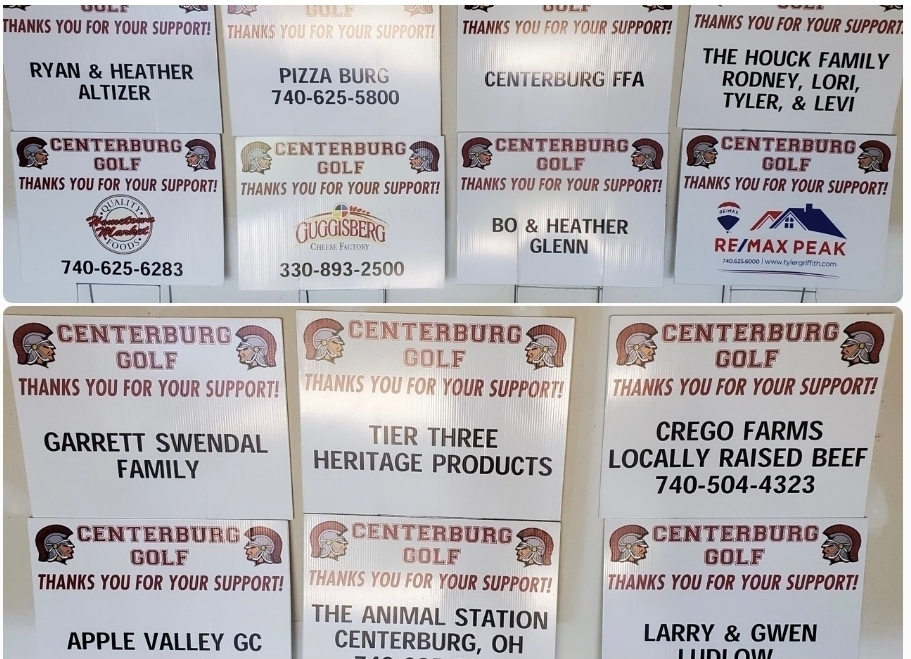 We will be recognizing our senior volleyball players on Thursday October 14th. Senior night festivities will begin at 5:30pm followed by our varsity match vs Kipp Columbus. Best of luck to Amani, Autumn, Emma, Eva, Gwyn and Olivia!

Attn Ski and Snowboard Club Members: It's time - any community member can grab their DISCOUNTED Ski and Snowboard Passes now! Follow the directions on the attached sheet. Also look for discounts from Aspen Ski and Board for any other equipment needs. Get your passes before they sell out. See the flyer for details or contact Christina Barnard with questions.
christina.barnard@centerburgschools.org
This year due to staff shortages, we will not be able to take bus trips to Snow Trails. (We hope to resume bus trips next year.)

FAFSA info sessions available coming up: Mount Vernon Nazarene Univ. Saturday, November 19th from 12noon-6:00pm COTC Central Ohio Technical College *Pataskala Campus = Wed. October 26th (4-7) *Knox Campus = Wed. November 2nd (4-7pm) *Cochocton Campus = Wed. November 9th (4-7) *Newark Campus = Wed. November 16th (4-7)

CCP Night. Tuesday, Jan. 24th @6pm HS Auditorium Required for current and future CCP students/families. If you have any questions, please contact Mrs. Ballinger at
carey.ballinger@centerburgschools.org

For those planning to attend our MS volleyball match on Monday 10/10, our HS volleyball match on Tuesday 10/11, or our MS football game on Thursday 10/13 at Fredericktown, all tickets must be purchased online at the following link.
https://www.fredericktownschools.com/Content2/tickets

Football Friday Night Ticket Info: In order to avoid potentially long lines on Friday at Danville, we will be offering pre-sale tickets. Tickets will be sold on Thursday October 6th from 8:30am to 3:30pm and on Friday October 7th from 8:30am to 2:30pm. Pricing is as follows: Adults: $8 Students: $5 The gates will open up at 5pm, and tickets will be sold at the gate also. Additionally, thanks to a generous sponsor, any MS or HS student attending the game on Friday and participating in the WHITE OUT (Friday's student theme), will be admitted for FREE. If you have any questions, please contact the athletic office.

Elementary Picture Day is Wednesday, October 19. Students will be bringing picture forms home this week. You may also order online at marcophotoservice.com Keyword: CBURGES.

MS/HS Picture Day is next Tuesday, October 11th!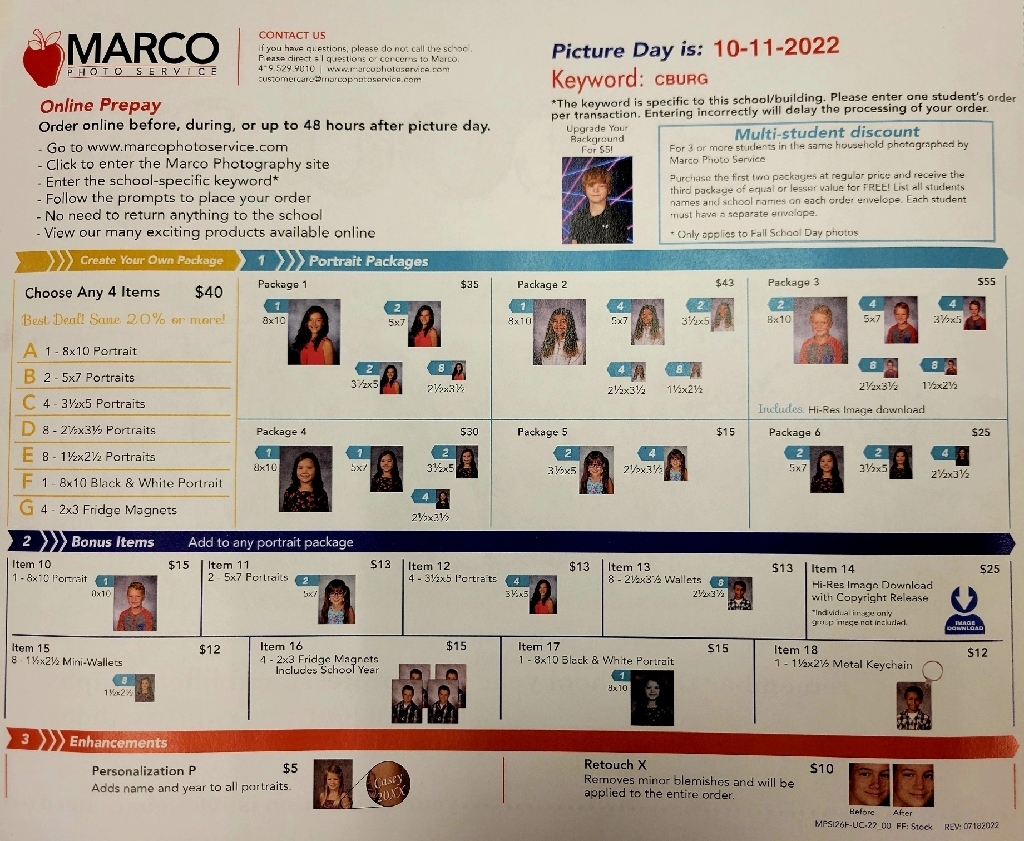 CYBL SIGN UPS