Softball Tournament Update: The softball team will be playing in the district championship game on Friday 5/20 at 5pm. The game will be played at Pickerington Central HS. Our opponent is Cardington-Lincoln. All tickets must be purchased online at
www.ohsaa.org/tickets
If you have any questions, please contact the athletic office.

The Lady Trojans get the 9-4 win over Fairbanks and for the 1st time in school history will be playing for a district championship! Congrats ladies!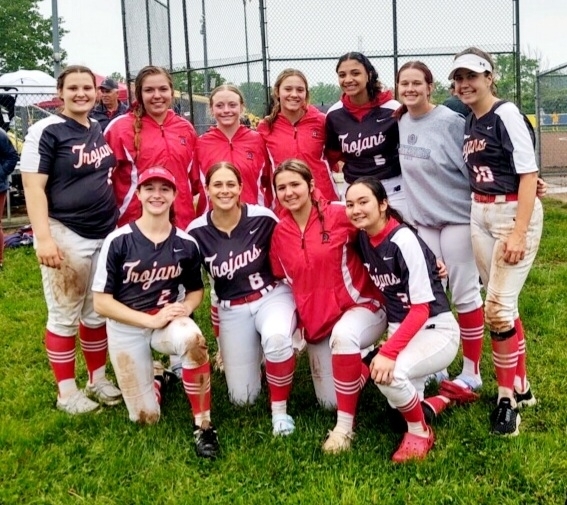 The Senior Sunset activities for this evening have been moved to the HS auditorium. Please enter through the back doors.
This morning Centerburg Bus 19 was hit by a car on Gilbert Rd. Families of all students on the bus are currently being contacted and notified. No injuries needing immediate treatment are reported. Students are being transferred to another bus and will be brought to their respective school buildings.. If any family wishes to speak to their child or wishes to take them for evaluation, they can come to their child's assigned school building.

Congratulations to Layke Burke! she was a 2022 Laws of Life Essay Contest Finalist!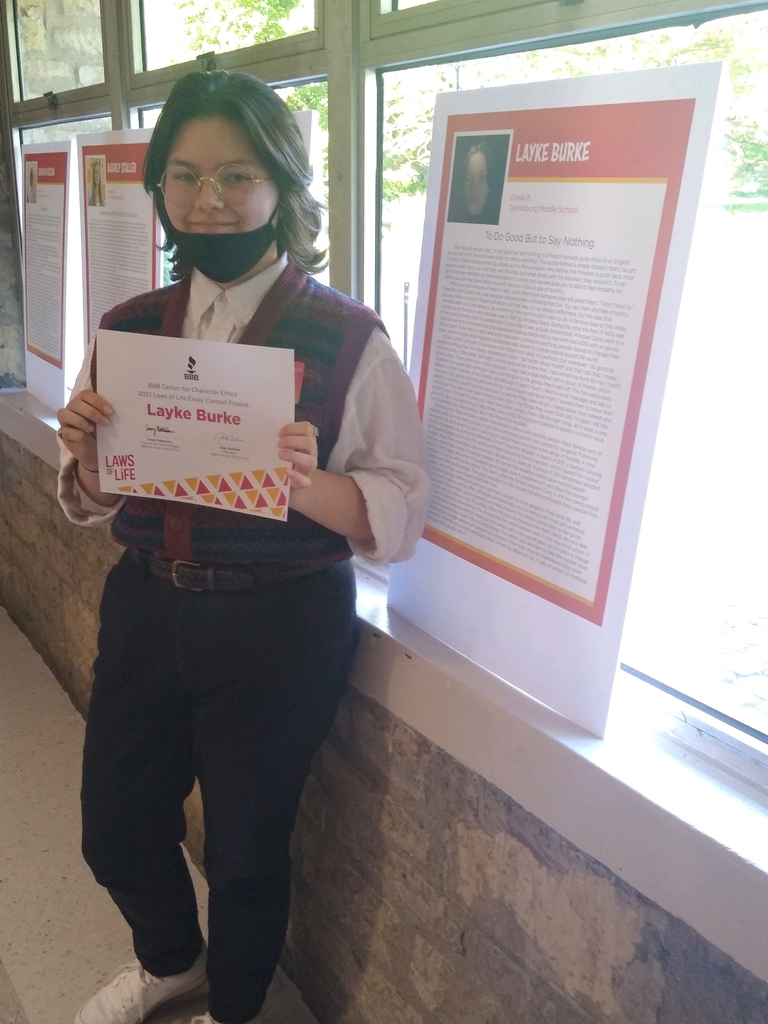 We have several important events happening this week for seniors! May 17 - Senior Awards Program 7pm @ HS Auditorium (wear gowns) May 18 - Senior Obligation Day (when all books, library items, fees, fines, etc. must be returned/paid) Last full day for seniors. May 18 - Senior Sunset 7-9PM @ HS May 19 - Senior Breakfast @ Centerburg Church of Christ 8:30am May 19 - Mandatory Graduation Practice 10:00am @ HS Gym (MANDATORY) May 20 - Baccalaureate 7pm @ Church of Christ (wear gowns) May 22 - Graduation Day! 3pm @ HS Gym (bleacher seating open to the public, doors will open @ 2:15pm).
The district has the following teaching positions open for next school year. High School Science (Physics, Chemistry) and Middle School Technology. If you know of anyone searching for a teaching position in these areas, please have them contact Ryan Gallwitz (
ryan.gallwitz@centerburgschools.org
) or John Morgan(
John.Morgan@centerburgschools.org
).

The HS track teams will be participating in the district track meet at Granville HS. The district meet will take place over the three days; Tuesday May 17th, Wednesday May 18th and Saturday May 21st. Please see attached schedules for specific times. Our girls team will be participating in District 2. All tickets must be purchased online at
www.ohsaa.org/tickets

Baseball Tournament Information: Date: Thursday May 19th Time: 5pm Location: Home Opponent: Columbus Academy All tickets must be purchased online at
www.ohsaa.org/tickets
. There will be NO cash sales at the gate. When searching to buy tickets, we are Division III, Region 10, Central 1. Cost of tickets are $8 up until 2pm on game day. After 2pm on game day, tickets are $10.

Here are the schedules for the week of 5/16. Monday 5/16: V BB at Berne Union (Game will be played at Beavers Field) - 5:15pm Tuesday 5/17: HS Track at Granville - 3:15pm (District Meet) Wednesday 5/18: HS Track at Granville - 3:15pm (District Meet) V SB vs Fairbanks at Olentangy HS - 5pm (District Semi-Final) Thursday 5/19: V BB vs Columbus Academy - 5pm (Sectional Final) Saturday 5/21: HS Track at Granville - 9am (District Finals)

" The powderpuff game is still on at 6pm at the football field. Players be prepared to get a little muddy! If there is lightening we will be taking a 30 minute break. "

Here is the information regarding our varsity softball district semi final matchup with Fairbanks. Date: Wednesday May 18th Time: 5pm Location: Olentangy High School Address: 675 LEWIS CENTER ROAD LEWIS CENTER,43035 Tickets: All tickets will have to be purchased online at
www.ohsaa.org/ticket

Here is the new schedule for the Elementary Awards Assembly on May 25: 1st - 8:30-9:15 2nd - 9:15-10:00 3rd - 10:00-10:45 4th - 11:00-11:45 5th - 12:00-12:45 Clap Out - 12:50 Dismissal at 1:00 Parents are welcome to attend.

Educational aides are needed for the 2022/23 school year to work with students with disabilities. If interested, please contact Barb Gentille Green (
barb.gentille@centerburgschools.org
)

If you would like to purchase an Elementary Yearbook, you may do so at:
www.marcophotoservice.com
Online Code: CBURYB Cost: $19.00 Delivery Options: pick up at their Studio in Ontario or have it shipped to you (for an additional fee)

Centerburg Volleyball Kids Camp Tomorrow is the last day to register! K & 1st Grade- May 16 & 17 2nd & 3rd Grade- May 18 & 19 Cost: $25 What to Bring: Athletic clothing, gym shoes, water bottle. Bring payment and completed registration form to Coach Colella (elementary) or Coach Boudinot (middle school) by Friday May 13th Make Check out to: Centerburg Athletic Boosters For Questions: Email:
abigail.boudinot@centerburgschools.org

Due to the recent news regarding early dismissal on May 25, we are working on a new schedule for the Elementary Awards Assembly and Fifth Grade Clap Out. We will post the schedule as soon as it's completed.
Centerburg Community Memorial Day services will be expanded this year in honor of the 50th anniversary of the death of Capt. Peter Hayden Chapman in Vietnam. The United States Air Force Band of Flight will be present at the ceremony and also will provide a free concert, along with the the High School Jazz Band at 2 pm at the HS. The memorial ceremony starts at 11 am at Eastview Cemetery. Seating is provided this year.
Due to an event held at the High School on May 25, school will dismiss early. HS/MS will dismiss at 12:45 and the Elementary will dismiss at 1 pm on May 25. KCCC and Learning center students will be picked up early so they can ride their normal bus home that afternoon. Times for dismissal at KCCC and the Learning Center will be published as soon as it is determined.