Youth Softball Clinic - See Attached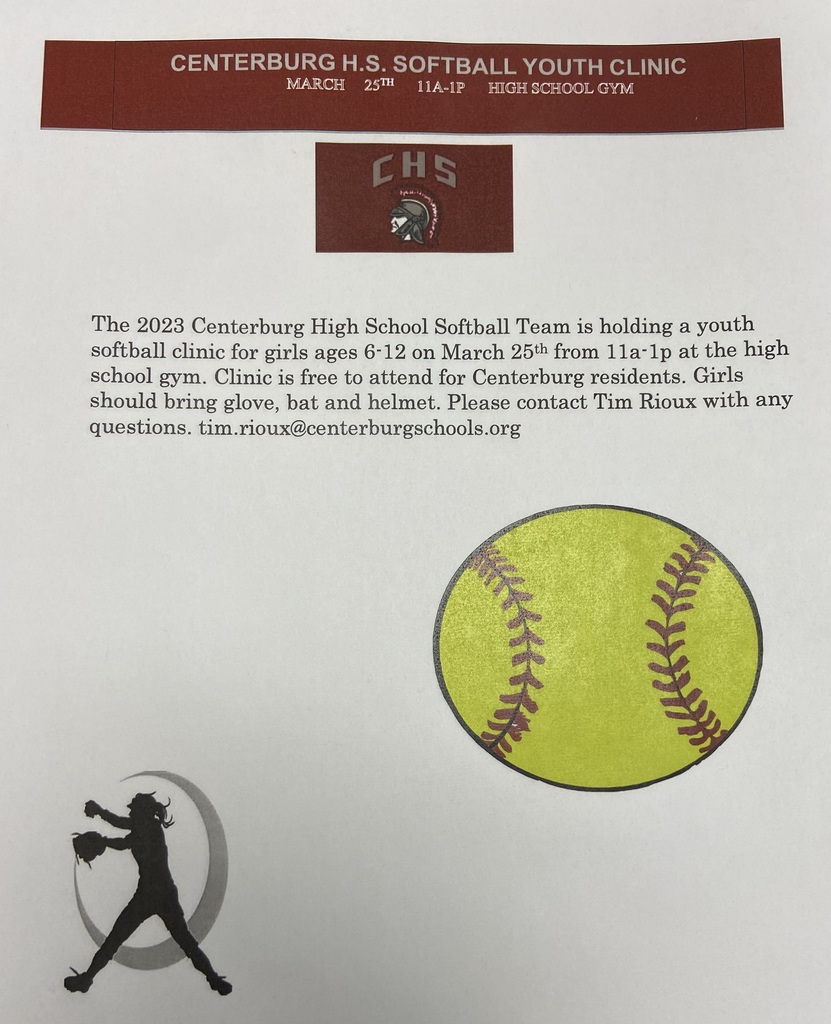 Attached is information regarding the Raise Craze Fundraiser that the elementary and MS students are currently participating in via the Elementary PTO! All money raised goes towards incentives for our students.
https://5il.co/1r0wd

Middle/High School Families - Please be on the lookout for an upcoming school climate survey. The School Climate Survey is an anonymous survey used to identify school climate issues within our school. Parents will be asked to complete a survey next week. The survey will be sent through final forms to all families of middle and high school students. We ask that you please take a few minutes to complete the survey in an attempt to better understand areas of strength and areas of need so that we can work towards the best possible positive school climate for all families, students and staff. Students and staff will also be asked to complete a survey in the next couple of weeks. Thank you for taking the time to complete this survey.

Centerburg Community, Thank you for all of your strawberry support. Spanish Club, the students traveling to Spain, and the Sophomore class raised about $1,500 combined. That's a lot of berries! We appreciate your support - Ms. Fleming, Ms. Kletrovetz, and Mrs. Barnard.

Congratulations to the February Students of the Month - Colt Sammons, Afton Ellis, Peyton Whitt, Blane Ball, TJ Collier, Riley Skillman, & Zach Sigwarth! Also, Congratulations to Mrs. Weade for Staff Member of the Month!
The ACT will still be given this morning. We will start right after announcements at 9:16.
Centerburg schools will be operating on a one hour delay today, March 14th.

MTV Arts Presents Seussical Jr. the musical this weekend March 10-12. Our own Mr. Jacklin is the Artistic Director for the show. See attached flyer for more info. The flyer includes a family discount code.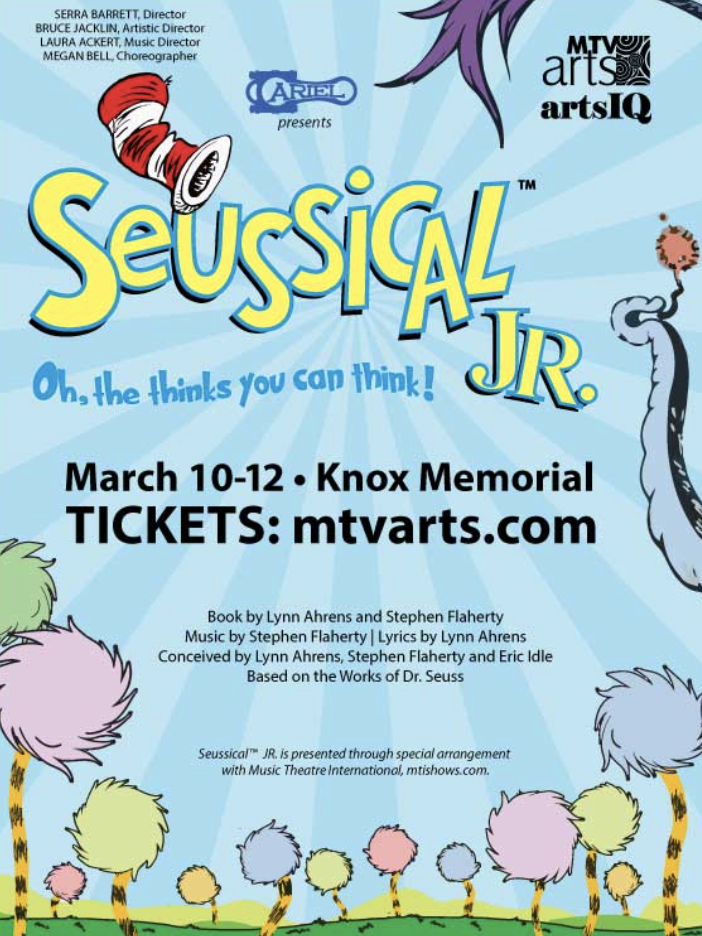 The Centerburg High School Drama Department will present Clue on Friday, March 10 and Saturday, March 11 at 7:30 p.m. and again on Sunday, March 12 at 2:30 p.m. in the Centerburg High School auditorium at 3782 Columbus Road. Based on the iconic 1985 Paramount movie which was inspired by the classic Hasbro board game, Clue is a hilarious farce-meets-murder mystery. The tale begins at a remote mansion, where six mysterious guests assemble for an unusual dinner party where murder and blackmail are on the menu. When their host turns up dead, they all become suspects. Led by Wadsworth—the butler—Miss Scarlett, Professor Plum, Mrs. White, Mr. Green, Mrs. Peacock, and Colonel Mustard race to find the killer as the body count stacks up.  Clue is the comedy whodunit that will leave both cult-fans and newcomers in stitches as they try to figure out…WHO did it, WHERE, and with WHAT! Senior cast members include Logan Costa, Judith Dettmar, Emilee Fletcher, Alyssa Harry, Jasper Faught, Autumn Kennedy, Casey Kennedy, Madigan Kennedy, Max Maffett, and Annelise Nash. Junior cast members are Maddie Donabauer and Kyle Schmidt. Sophomore cast members include Carson Browning, Victoria Browning, Chloe Evans, Ashley Moore, and Caroline Nash. Freshman cast members are Rigby Arter and Asher Kennedy. Stage and tech crews are made up of juniors Casey Montgomery and Riley Skillman, sophomores Dylan Meier and Emma Ocker, freshmen HayLee Plakis and Emma Parsisson, and 8 th grader Tesla Blankenship. Tickets for Clue are $7 for students and seniors and $10 for adults. Tickets can be purchased at the door on the day of the show, beginning an hour prior to the start of the show. All tickets are general admission, and no passes or discounts will be accepted. Please note that this show includes references to adult behaviors and language—in addition to murder—and may not be suitable for all audiences. Clue is adapted from the screenplay by Jonathan Lynn and is written by Sandy Rustin, and it includes additional material by Hunter Foster and Eric Price and original music composed by Michael Holland. Clue is based on the Paramount Pictures Motion Picture based on the Hasbro board game CLUE.

Congratulations to the MS/HS January Students of the Month - Colten Niese, Kaleb Rauck, Deacon Goulter, Drake Dunno, Heidi Purdum, Olivia Mayberry, and Oliver Griffith. As well as Mr. Altizer for Staff of the Month!


January Student of the Month Breakfast is Thursday, February 23 at 8:30 in the Multi Purpose Room. Please make sure all students check in with their teachers before they attend the breakfast.

Follow the link below to purchase tickets for Wednesday nights boys tournament game at home vs Tree of Life. Go to Basketball, boys basketball, Division 3 Region 11, Central 2, find "Centerburg vs Tree of Life. No passes will be honored at the gate.
https://www.ohsaa.org/tickets

Attention New Traffic Pattern at Elementary starting Feb. 21st Pick up and drop off has been slower due to water line construction on Dally St. For Drop Off and Pick up please Follow the traffic pattern for the main parking lot. See attached picture. Follow the loop. At the Crosswalk it is one way traffic. Cones will be up at crosswalk. Reminder: Drop off - pull into the drop off area for quick drop off. Park in the parking lot if you need to bring something into the building Pick up - K/1 students need to be collected from ticket booth, please park in parking lot. Pick up in pick up/drop off area - pull forward as far as you can.

HS Boys Baseball - Mandatory practices begin tomorrow (for anyone not still participating in a winter sport) from 5:30-7:30pm @ the old HS. Practice will be both indoors/outdoors, so dress appropriately. Questions? Reach out to Coach Moss!

Reminder - School is closed on Monday, Feb. 20th!

If you have a MS student interested in football for next year, please use the attached QR Code to fill out the information sheet. Questions? Email Coach Nininger @
cody.nininger@centerburgschools.org

Congratulations to Zachary Jagger for setting a school bowling record last night!! He bowled 195 and 288 for a 2 game series of 483.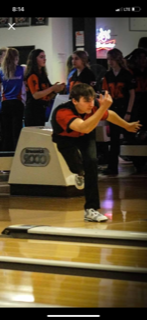 WHAT: Q & A for College Credit Plus (CCP) WHEN: Tuesday, Feb. 21st @ 6pm. WHERE: High School library WHO: Any student/family who still have questions about CCP. Many students and families have questions about which courses are offered at CHS, what are great "beginner" CCP courses, how these courses fit into a student's school day, which courses count for both college AND high school, etc. Bring your notepad and questions! Thank you!

Seniors, pictures are this Thursday!!