Football Friday Night Ticket Info: In order to avoid potentially long lines on Friday at Danville, we will be offering pre-sale tickets. Tickets will be sold on Thursday October 6th from 8:30am to 3:30pm and on Friday October 7th from 8:30am to 2:30pm. Pricing is as follows: Adults: $8 Students: $5 The gates will open up at 5pm, and tickets will be sold at the gate also. Additionally, thanks to a generous sponsor, any MS or HS student attending the game on Friday and participating in the WHITE OUT (Friday's student theme), will be admitted for FREE. If you have any questions, please contact the athletic office.

Elementary Picture Day is Wednesday, October 19. Students will be bringing picture forms home this week. You may also order online at marcophotoservice.com Keyword: CBURGES.

MS/HS Picture Day is next Tuesday, October 11th!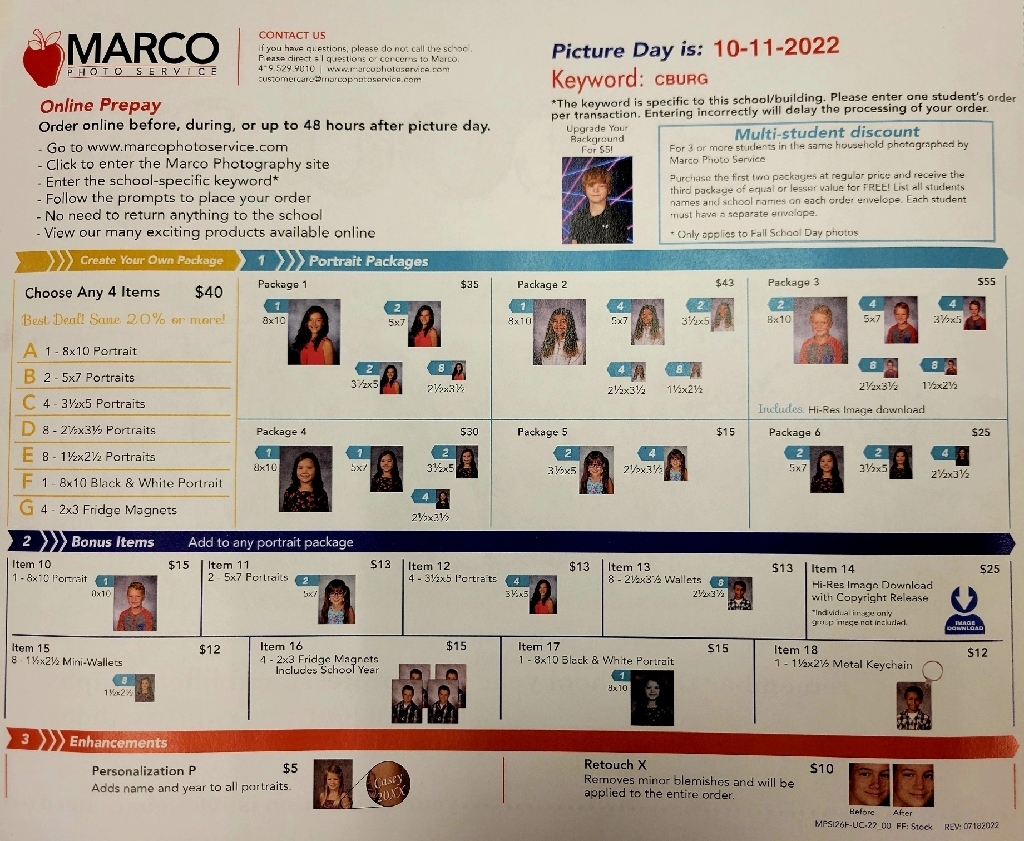 CYBL SIGN UPS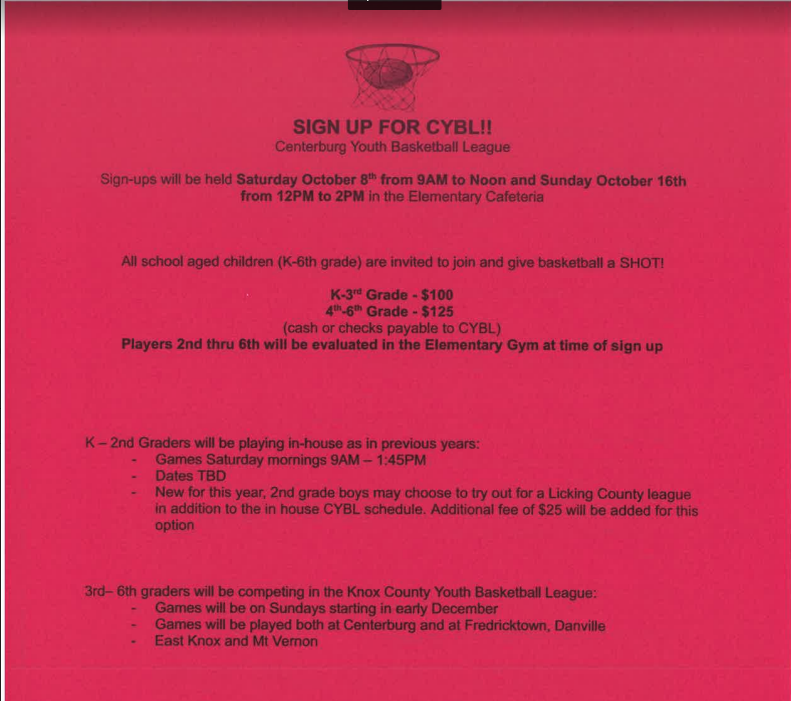 Tonight's varsity football game at Mt. Gilead will be broadcast on WMVO radio, and they will also be live streaming the game via the WMVO FaceBook page.

Monday, Oct 3rd the HS Volleyball teams will be playing at home vs Worthington Christian. We will be playing in pink and collecting donations for the Susan B. Komen Breast Cancer Foundation.  At the game we will have small games between sets during JV and Varsity. All games come with prizes from our fabulous sponsors: Maximum Nutrition, Bouncing Bean, Webb's, Eggman's, Animal Station and Kolacheez!  

Just a reminder that Student of the Month Breakfast is tomorrow, September 29, at 8:30. Please make sure all students check in with their teacher before attending.

For anyone planning to attend Friday's varsity football game at Mt. Gilead, we will be offering pre-sale tickets in order to avoid the long lines on Friday night. Pre-sale tickets will be available for purchase in the athletic office on the following days/times. Tuesday 9/27: 12:30pm to 3:30pm Wednesday 9/28: 8:30am to 3:30pm Thursday 9/29: 8:30pm 2:30pm Pricing is as follows: Adults: $8 Students: $5 Anyone purchasing a pre-sale ticket will be able to enter through the pass gate and will not have to wait in line. We have been told that the gates will open at 5:30pm on Friday.

Student Council would like to thank the following businesses and volunteers that helped make homecoming 2022 possible. Wyandot Golf Course Central Ohio Joint Fire District Kathy Compton Rusty Griffith Sheri Stoyle Jennifer Purdy Deputy Mercer Kristi Adams and the Cheerleaders Chuck Dettmar and the Marching Band Noah Meneuz Bo Glenn Mike Kuhn The administration, including Rich Porter, Stephanie Pound, John Morgan and Ryan Gallwitz.

Opening dates for the career center application...see below! First Chance Enrollment Night Online Applications will be open Thursday, Nov. 17, 4:30 pm-midnight These applications will be provisionally processed by Dec. 9 Second Round Enrollment Applications will reopen Dec. 12, 8:00 am No application processing will occur until after Jan. 31. Priority Deadline January 31, 2023 (for all students: 10th, 11th, 12th) Then applications will be processed within two weeks as they come in after the Priority Deadline.

Just a reminder for those planning to attend the Fr/JV/V volleyball matches this evening at Mt Vernon. The freshman and JV will be playing at the same time and both matches will start at 5pm. The freshman match will be played in the fieldhouse and the JV/V matches will be played in their HS gym.

Tonight's pregame homecoming festivities will begin at 6:20pm. Please join us in celebrating the homecoming court and cheering on the Trojans for a win 🏈 As a reminder, the cheerleaders will be selling athletic programs at the gate. $5 cash only!

Both the Elementary and MS/HS will be collecting Coats for Kids from October 1-31st! please drop donations off in the offices.

If you are planning to attend the HS boys sectional golf tournament on Tuesday 9/27, all tickets must be purchased online. There will be no cash sales at the gate. Ticket prices are as follows: Adults: $8 Students: $6 The boys will play at Denison Golf Course. 1.
www.ohsaa.org/tickets
2. Golf - Boys 3. D2 Boys Golf Sectional at Denison Golf Course 4. Purchase tickets

If you are planning to attend the HS girls sectional golf tournament on Monday 9/26, all tickets must be purchased online. There will be no cash sales at the gate. Ticket prices are as follows: Adults: $8 Students: $6 The girls will play at Blacklick Woods Golf Course. 1.
www.ohsaa.org/tickets
2. Golf - Girls 3. D2 Girls Golf Sectional at Blacklick Woods Golf Course 4. Purchase tickets

Attn Ski and Snowboard Club Members: This year due to staff shortages, we will not be able to take bus trips to Snow Trails. (We hope to resume bus trips next year.) However, all community members are invited to purchase passes at a discounted rate! Get them before they sell out! See the flyer for details or contact Christina Barnard with questions.
christina.barnard@centerburgschools.org

Update regarding tonights parade/bonfire... Due to the weather forecast, we believe it is best to move tonights activities indoors. The parade/bonfire is canceled. We will now host a Pep Rally for the community at 7pm in the HS gym. **Please enter through the wellness center doors!** The band/cheerleaders will perform, the homecoming court announced, then will conclude with the senior football player basket auction!!! Please plan to join us!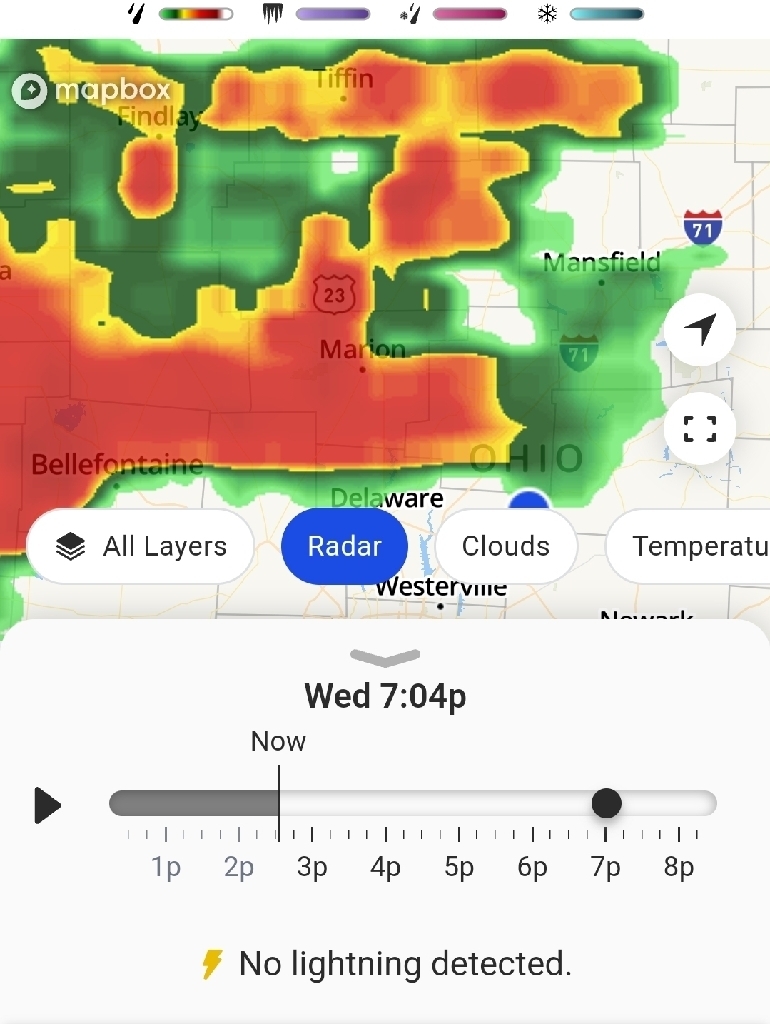 The race schedule for today's cross country meet at Columbus has changed. The boys race will now start at 5:45pm, and the girls race will start at 6:20pm.

Centerburg Trunk or Treat Info!!! We will be merging with the Church of Christ this year. Parking will be at the High School, the Trunk or Treat will be at the Church of Christ lot.