⚾️ Due to pending inclement weather, Saturday's JV and varsity baseball games with Elgin have been cancelled.

Saturday's HS track meet at Fredericktown has been canceled and will not be rescheduled.

Monday 3/28: V baseball at Madison Christian - 5:15pm *Game will be played at Berliner Park/Field #20 JV softball vs East Knox - 5:15pm Tuesday 3/29: JV baseball at Licking Valley - 5pm V baseball vs Licking Valley - 5pm JV softball vs Mt Vernon - 5:15pm Wednesday 3/30: MS track at Mt Gilead - 4:30pm JV softball at Bexley - 5:15pm Thursday 3/31: V softball at Northridge - 5:15pm JV softball at East Knox - 6pm Friday 4/1: V softball at East Knox - 5:15pm V baseball at East Knox - 5:15pm JV baseball vs East Knox - 5:15pm Saturday 4/2: HS track at Bucyrus - 9am V baseball at Northridge - 11am JV baseball at Northridge - 1pm

⚾️ Varsity Baseball scrimmage @ Johnstown has been moved to Centerburg. The JV Baseball scrimmage has been canceled for today.

Today's home JV baseball scrimmage vs Northmor has been canceled.

The official spring sports season begins on Saturday 3/26. Monday 3/21: V softball at Worthington Christian - 5:15pm JV softball vs Newark Catholic - 5:15pm V baseball vs Liberty Union - 5:15pm Tuesday 3/22: V softball at Bexley - 5:15pm Wednesday 3/23: JV softball at Licking Hts - 5:15pm V softball vs Licking Hts - 5:15pm Thursday 3/24: V baseball at Johnstown - 5pm JV baseball vs Johnstown - 5pm Saturday 3/26: HS track at Fredericktown - 10am V baseball at Elgin - 11am/1pm JV baseball vs Elgin - 11am/1pm

Congratulations to our February MS/HS Students of the Month! Daughtry Gibson, Jocelyn Tabor, Karsen Griffith, Nadia Montgomery , Taylor Tenzos, Jasper Faught, & Sydney Irwin.

Manufacturing Fundamentals High School Program at Ariel Corporation Ariel recruiters will be at Centerburg High School on March 23, 2022. The manufacturing fundamentals program will engage students in a paid part-time Ariel technical internship while finishing high school. The internship will provide a mix of classroom and hands-on training designed for active student engagement. Who can participate: eligible high school seniors who want to explore a manufacturing career. Successful candidates must have a solid mechanical aptitude to learn a trade and a great attitude to succeed at Ariel. Contact your high school technical guidance counselor today! Learn More:
https://www.arielcorp.com/company/work-for-ariel/early-career-and-students.html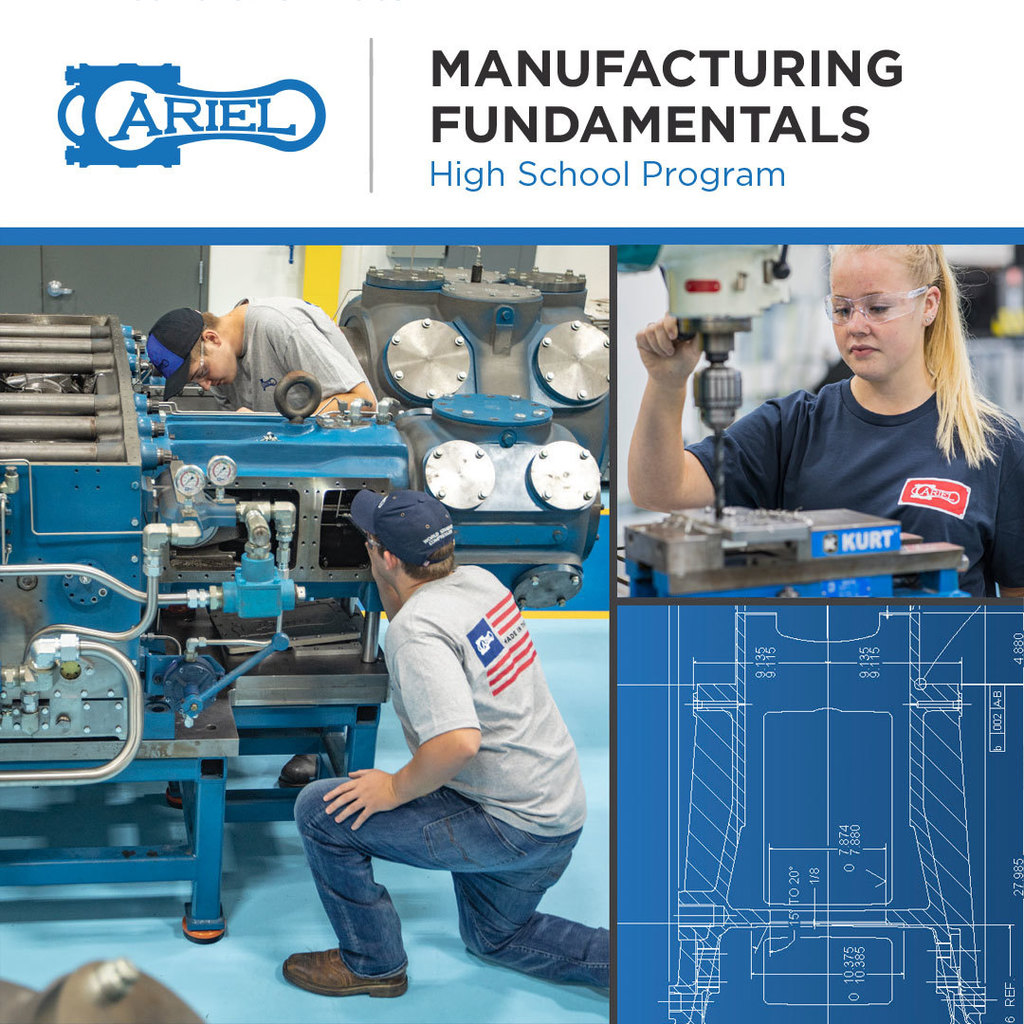 A note from the school nurse: The Mobile Dentist offers dental cleanings/x-rays and preventative care at the school. Scheduled to visit April 11th. Parents can sign their children K-12 up online by going to:
https://www.myschooldentist.com/CKCLOH_sch

Back to school immunization info from Knox Public Health!

A mew messages from the FCCLA Department: FCCLA will be holding a St. Patrick's Day bake sale on Thursday, March 17, during MS and HS lunches. It will be by donation only (.50 cents min.) and all money raised will go directly to the FCCLA chapter. Distracted driving is a plaguing issue which compromises the safety and wellbeing of our community. FCCLA Officers felt this topic was crucial to address for the general welfare of not only our students but also those around them. As part of the FACTS program events from the National Office, the officers led members in an information-based survey completing the requirements to earn a grant for our Centerburg chapter. Congratulations to all those who participated in the project! You helped our chapter to earn one of 10 - $1,000 grants from State Farm Insurance.

Centerburg H.S. Softball Youth Clinic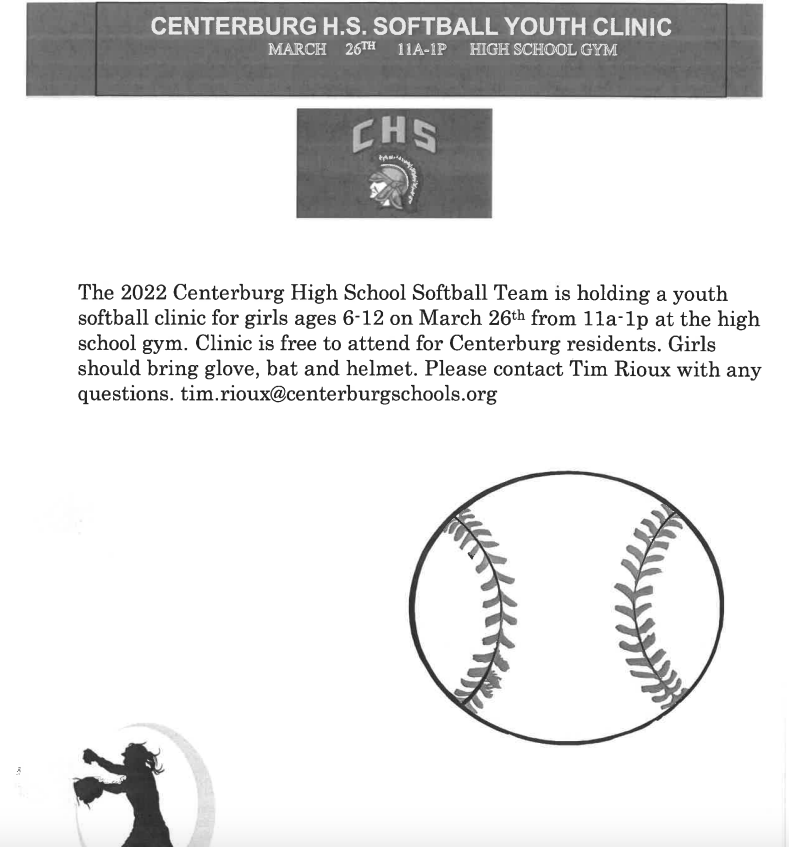 Centerburg Elementary Spring Pictures will be Tuesday, March 22. Pictures will be taken only for students that are purchasing packages. Orders must be placed on or before March 22. You may pre-order pictures at marcophotoservice.com, keyword CBURGESP. Order forms will be going home with students this week. If you have any questions, please call the Elementary School at 740-625-6488.

Last week the art students submitted their artwork to the Ohio Governor's Art Show. Two projects will move on to further judging in hopes to make it to the top 250 of 8,000 works of art in the state of Ohio completed by high school students. The two that are moving forward are "When Wars Collide" by Izzy Fink and "Stereotypical" by Sydney Irwin. In addition, Centerburg was chosen again to have a work of art hang in the Ohio House of Representatives art hall, which connects the halls in the Riffe Center downtown that congressmen walk through. The 99 works represent the 99 districts in Ohio. Amaiah Gammell's art will hang there for the next two years. Congratulations ladies!
I apologize for the late closing notice. There was no indication of the extent of the flooding until I drove into the school at 6:30. As we drove the roads and realized the extent of flooding we began to try to work on rerouting buses but determined that we were overwhelmed with the amount needed. I also began to be concerned that the number of stops that we would have to skip due to rerouting would cause students to be waiting for a very long time until we could notify them individually. It became apparent that the safest decision was closing. Mike Hebenthal, Superintendent
Centerburg School is closed today due to flooding.
Due to laws that forbid buses from driving through roads covered by water, Centerburg Schools must close today due to flooding. I apologize for the late notice.
Effective Feb 25, masks are no longer required for school buses.

Tomorrow's boys basketball tournament game vs Johnstown will be broadcast on the radio via WMVO and will be live streamed via the OH Report on their FaceBook page and YouTube channel. We will host Johnstown on Saturday 2/26 at 1pm. Entrance: We will have two entrances. The Athletic Event Entrance doors, and the back doors by our auditorium. Admission - Pre-Sale is $8.00, and $10 starting at 10am on Saturday 2/26. All tickets must be purchased online at
www.ohsaa.org/tickets
. Click on boys basketball, D III, Region 10/Columbus 1. I expect tickets will be available later this afternoon. Gate will open at 12pm for spectators Passes: Only OHSAA approved passes will be accepted. No other passes will be accepted. Limited concessions will be available