Here are the athletic schedules for next week. Monday 4/19: MS Track at Granville - 5pm JV BB/SB at East Knox - 5:15pm V BB/SB vs East Knox - 5:15pm Tuesday 4/20: HS Track at Cardington - 5pm JV BB/SB vs Danville - 5:!5pm Wednesday 4/21: MS Track at Northmor - 4:30pm JV BB/SB vs East Knox - 5:15pm V BB/SB at East Knox - 5:15pm Thursday 4/22: V SB at Newark Catholic - 5:15pm JV SB vs Newark Catholic - 5:15pm Friday 4/23: JV BB/SB vs Highland - 5:15pm V BB/SB at Highland - 5:15pm Saturday 4/24: HS Track at Hamilton Township - 9am MS Track at Mt Gilead - 10am JV SB vs Mansfield St Pete - 11am and 1pm

Congratulations to the March Elementary Students of the month!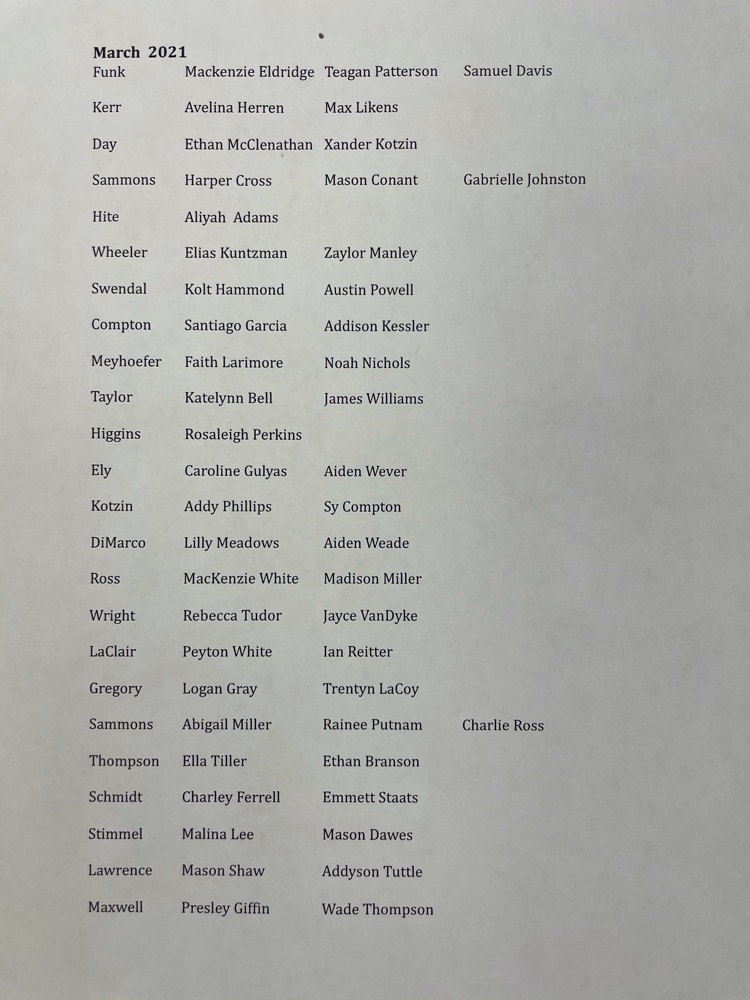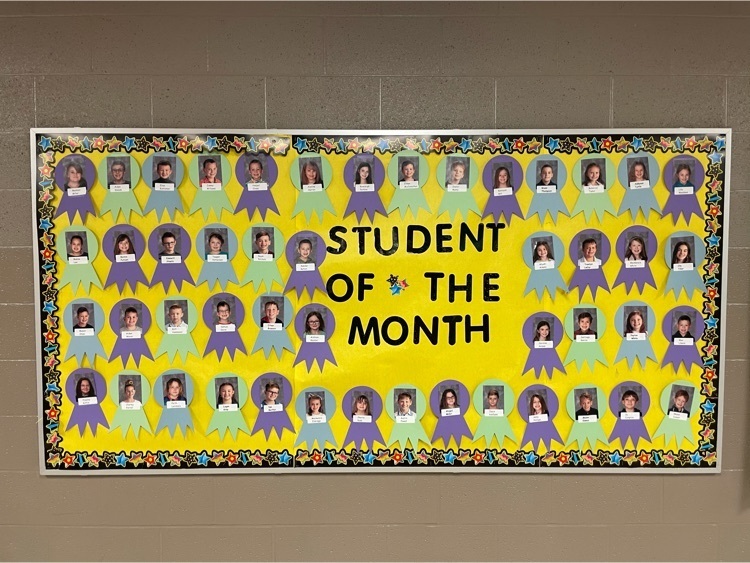 BOGO Book Fair Happening at the Elementary April 16 through 23! Family Nights for BOGO is April 19 & 22 from 3:30 to 7:00

The Knox County Health Department will be offering Pfizer Vaccinations to the 16 and older students with parental consent on April 19th, 2021 at the high school during normal school time. Letters were mailed last week to include information fact sheets and consent forms. If you need a copy of either please contact the school and one can be picked up or emailed. For students to participate in the vaccination clinic, please return the consent form by Friday, April 16th. If you do not wish to participate, the vaccination will not be given to your child.

Donnell Marshall receiving recognition at last Monday's board meeting for his wrestling accomplishments. Way to go, Donnell!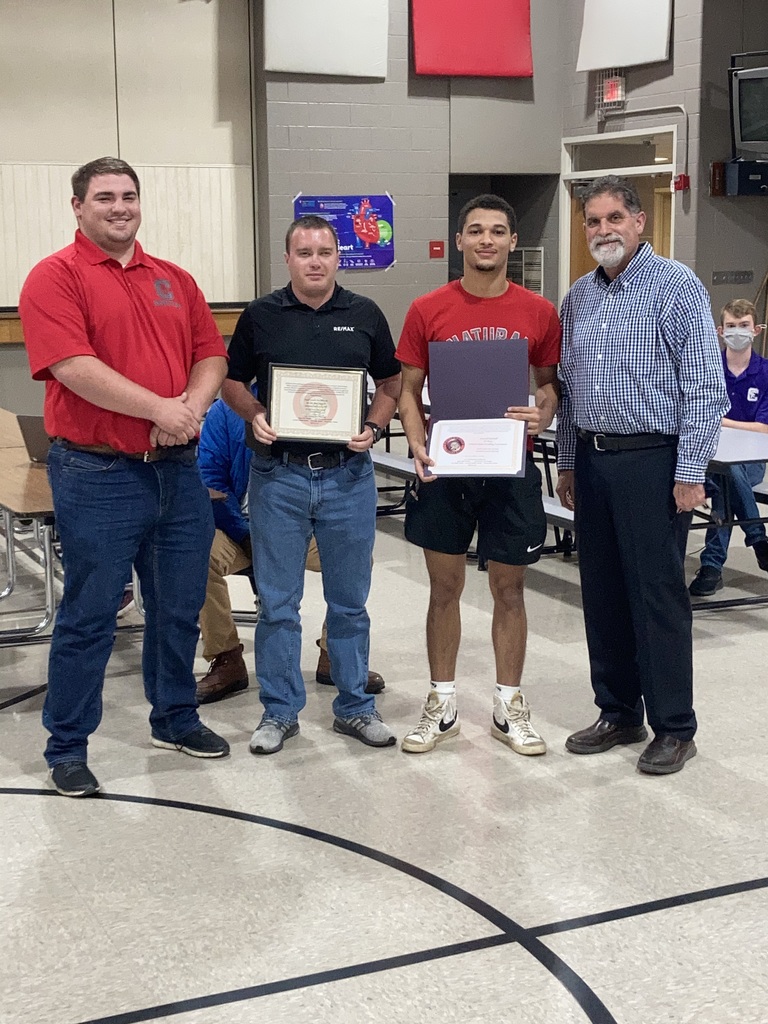 Attached is a JV softball schedule update: Saturday 4/24: Will host Mansfield St Peter for a double header. 11am and 1pm Saturday 5/8: Will travel to Delaware Hayes for a double header - 10am and 12pm

Congratulations to Abby Fisher, 2nd Grade - Mrs. Ely's class and Charlie Ross, 4th Grade - Mrs. Sammons' class for being chosen as our school's winners for the Knox County Board of Developmental Disabilities annual Coloring and Essay Contest! Both winners received a $25 gift certificate to Paragraph's Bookstore in Mt. Vernon.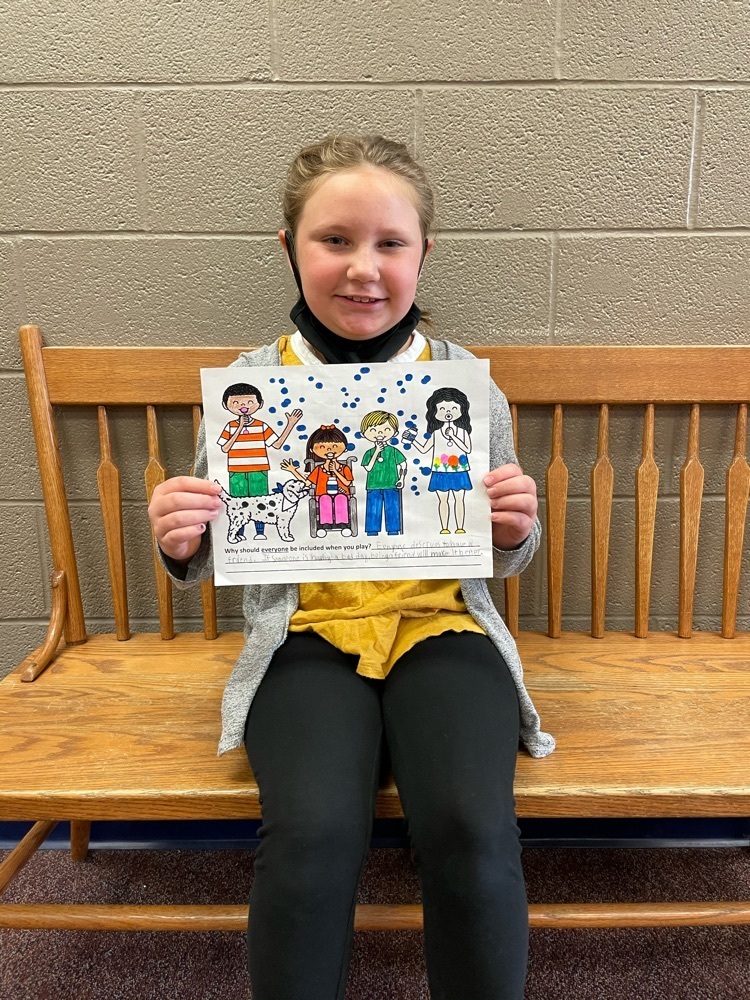 All baseball/softball games for today are postponed. There will be no softball practice, baseball players please reach out to your coach for practice info.

Centerburg FFA Community Service Project The Centerburg senior FFA members are conducting a community service outreach project. We would like to gather information from the Centerburg community to compile project ideas. We will base our community service project on the responses received. Thank you for your constant support for our chapter, school, and community!! If you have further questions or ideas please contact Matt Weade at
matt.weade@centerburgschools.org
The google form is attached below:
https://forms.gle/NJwGfjzurwtR3iCW7

The Ag Dept. Greenhouse sale is quickly approaching! The dates are: May 8th 9:00am-5:00pm & May 9th 11:00am-4:00pm. Any questions, please email
matt.weade@centerburgschools.org

Interested in Cheerleading for next year?! We will have 4 "Cheer Basics" open gyms April 20, 22, 27 and 29 from 3-5pm. These are great for those who have never cheered and want to give it a try or those who have experience but need some refreshers before tryouts! We will go over stretching, proper motions and jumps before tryouts :)  Tryout Clinic days will be May 11, 12, and 13 (3-5pm) with tryouts on the 14th! If you plan to join us, please stop by the office and sign up on our sign up sheet.  We would love to see you there! Coach Adams & Coach Gross

Attention Centerburg Seniors and Juniors: Prom 2021 is right around the corner! Come enjoy a lovely (but socially distanced) evening at the Beverly Mansion in Marengo on Saturday, April 24 from 8 to 11 PM! Electronic invitations with more details about ticket prices and deadlines were sent to your Centerburg and KCCC email accounts. Be sure to open your invitation, read all of the pertinent information, and RSVP by this Friday, April 16. Also, please purchase tickets from Mrs. Weade (7:30 AM to 3:30 PM) and turn in Dance Guest Forms by Friday, April 23. Tickets are free for all CHS seniors but cost $25 for juniors or students from outside of Centerburg Schools. Dance Guest Forms can be found in on the Centerburg Schools website under the "Forms" tab or in the high school office. Please contact Mrs. Weade (
megan.weade@centerburgschools.org
) with any questions.

21-22 School Year, Based on the current and expected progress in dealing with the COVID virus, Centerburg Local does not plan to offer any online option next school year. We wanted to inform the community early in case someone needs to look at other online options. The online process takes away from all of our students due to teachers needing to maintain and complete two teaching processes each day. We do not feel that our system is set up for nor has the staffing to run a continuous online academy. If conditions change and the state health department recommends that schools again begin to quarantine, we will reevaluate this decision.

Monday 4/12: MS Track at Cols Academy - 4:30pm JV BB/SB at Danville - 5:15pm V BB/SB vs Danville - 5:15pm Tuesday 4/13: HS Track at Highland - 4:30pm Wednesday 4/14: MS Track at Fredericktown - 4:30pm JV BB vs Mt Gilead - 5:15pm V BB/SB at Mt Gilead - 5:15pm Thursday 4/15: JV BB at Utica - 5pm JV SB at Centennial - 5:15pm V BB vs Utica - 5pm V SB vs Centennial - 5:15pm Friday 4/16: JV SB at Marion Harding - 5:15pm JV BB at Mt Gilead - 5:15pm V BB/SB vs Mt Gilead - 5:15pm Saturday 4/17: HS Track at Johnstown - 9am V SB at Grandview Hts - 11am (D.H.)

Elementary Buy 1 Get 1 Free Book Fair!! April 16-23 Family Nights are April 19th and 22nd from 3:30 to 7 pm

The girl's JV (home) softball game vs. Danville has been canceled for this evening. The Varsity (away) softball game vs. Danville is still on at this moment. Go Trojans!

Parents, Please do not drop off your Elementary Student(s) until 8:15. Unless they are coming in for breakfast and they remain in the cafeteria. Thank you
Help support the Centerburg Music Boosters by attending their 3rd Annual Mattress Fundraiser. Please see the attached link for details.
https://5il.co/raxh

Knox Public Health is having an evening COVID vaccine clinic today at the Knox County Career Center in Mt Vernon from 4:00-6:00pm. Ages 16+ are currently eligible. This is a walk-in clinic. Any questions please let me know. Thanks! Jessica Parker BSN, RNPublic Health OutreachPublic Health Nurse/Newborn Home Visitation/Children with Medical Handicaps (CMH) NursePh 740-392-2200 ext 2237 Fax 740-326-1950 11660 Upper Gilchrist Rd., Mount Vernon, OH 43050
www.knoxhealth.com
Knox Public Health - Mount Vernon, Ohio